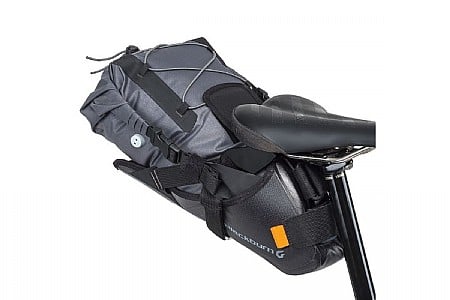 User submitted reviews
Review by Frosty67
Versatile
4 of 4 customers found this review helpful.
The key feature for me was to have a seat pack that was easily removable. Most packs are designed to be attached to the bike so they must be loaded on the bike. I needed a pack that I could use everyday for commuting and was easy to take on-off the bike to carry in and out of the office. This has all the features of other packs but with the added convenience of being able to pack it off the bike. Other great features include the air valve to compress the bag when loading (absolutely required), and the ability to mount on a dropper post, if needed. Bag is high quality and waterproof. The mounting sling is very sturdy and easy to load/unload.
WesternBikeworks.com Comments
Thanks for an informative review. It does a great job outlining the features of this product.
Thank you for your feedback.
Review by Charles
Totally enjoy the seat pack. I employ a dropper seatpost and the installation was a breeze.
2 of 2 customers found this review helpful.
This pack has plenty of storage capacity and is very well built. It's allowed me to ditch my backpack for a more comfortable ride. I would recommend this product to anyone that is looking for great storage capabilities with an easy on, easy off attachment system. So I'll just say that it's not only highly functional but cosmetically appealing as well.
Thank you for your feedback.