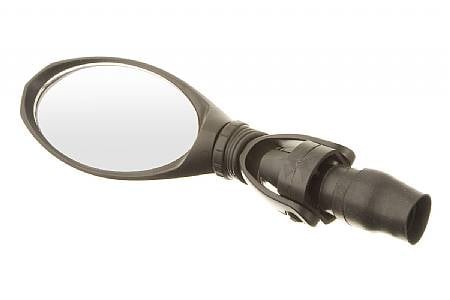 Excellent bike mirror!
Casual Cyclist
We live in southern Indiana, but we love traveling
1 of 1 customers found this review helpful.
The mirror folds and unfolds with just enough resistance to keep it from slipping once it is adjusted. It's easy to adjust while riding and large enough to give a clear view of approaching riders or traffic.
Thank you for your feedback.
works great
Cycling Enthusiast
kansas city Mo. area go Royals
GREAT
Daily Commuter
owensboro kentucky
This is an excellent mirror
Cycling Enthusiast
Ventura, CA
2 of 2 customers found this review helpful.
This mirror is a big improvement over Blackburn's previous mirror which was secured with a velcro strap. I've been using the previous mirror on my road bikes for years but recently had one fall off, unnoticed, on a section of rough pavement when the velcro strap loosened up. Of course, when I backtracked, it had been run over. This mirror is easy to install, the attachment is much more secure, the new mounting is much stiffer and the mirror remains in the chosen position much better.
Thank you for your feedback.
Don't make them like they used to.
Cycling Enthusiast
Southeast Louisiana
3 of 3 customers found this review helpful.
Bought one 14 years ago and have used since. Decided it was time to refresh. Mistake. The new one seemed less than clear and appeared to be wavy. Contacted the manufacturer as the mirror does have a lifetime warranty. Received a replacement and it seemed to be worse than the first. So, threw them both in the garbage and reinstalled the old one.
Thank you for your feedback.
Product is better than I initially thought!
4 of 4 customers found this review helpful.
Initially I was please with the installation simplicity but bummed because road vibrations made it impossible to use effectively. But playing with the mirror adjustments I found a nut which eliminated all vibration issues I was having. My opinion is that mirrors are a must when riding on the road and this product fits the bill for me!
Thank you for your feedback.
used on giant iguana mtb , perfect
Cycling Enthusiast
chicago
2 of 2 customers found this review helpful.
Did alot of research online before purchasing this . 1. its blackburn 2. looked cool
Comes with 3 different size rubber washers , pretty much will fit any bars . installed adjusted a couple mini allen screws and this couldn't have worked out better , tight , swings in for storage or transport , clear and no vibrations .........
Thank you for your feedback.
Junk!!
This mirror turned out to be junk and actually fell off my bike when not looking and was never found. The screw to tighten to the handle bar is horrible.
WesternBikeworks.com Comments
Hi,
Thanks for your review! I am sorry to hear your mirror fell off during a ride. Our staff has not experienced this with the Blackburn mirror in the past. Be sure to get in touch with our customer service department at [email protected] if there is anything we can do to help.
Thanks, Anna
Thank you for your feedback.