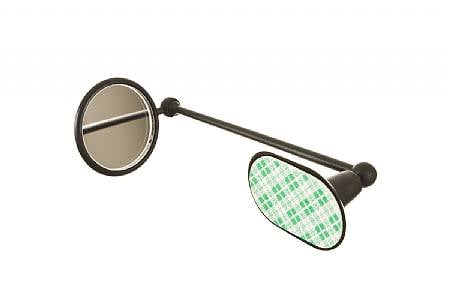 Bad adhesives, too short arm length
Competitive Racer
Las Vegas
2 of 2 customers found this review helpful.
The adhesive tape isn't very sticky. Mirror fell off my helmet yesterday, on 2nd ride, and was run over by a car. It was applied properly to clean surface. In fact, the tape is till on my helmet-the mirror came unattached to the tape.
The arm is a bit short for placement on my helmet. This is more a limitation of my helmet, requiring the mirror to be mounted farther back from the browline, where this would work best. I will replace it with a longer arm model, but from a different manufacturer.
Thank you for your feedback.
Lots of issues
I had a mirror similar to this that had most of these same issues.
1. Stem is thin and flexible - transmits a lot of vibrations from the road to the mirror.
2. Base stem is too long - creates an impossible angle for the mirror to rotate back from the way the joints are designed.
3. Joints are stiff and hard to adjust, but still seems to slip out of place. Have to adjust every few miles.
4. Mirror is small, have to use a lot of head rotation to view behind you. A rectangular mirror would work better.
Thank you for your feedback.
It's an awesome rear view mirror!
Casual Cyclist
Union City , CA .
Small, easy to use, does not block peripheral vision, holds up through all kinds of weather, easy to fix on the road.
Competitive Racer
SE Pennsylvania
2 of 2 customers found this review helpful.
If you have ever heard of RAAM (Race Across America) SOLO, along with all of the other Ultra Endurance racing that leads up to qualifying not to mention racing non stop for 11 days. This mirror was attached to my helmet through all kinds of training, racing including daytime, night time, rain, fog, snow, ice, and held up in fact I am still using the same mirror that now has well over 30K miles!!
A must have for any kind of road riding, stay SAFE out there............
Thank you for your feedback.
Save your money
Cycling Enthusiast
Vancouver wa
Blackburn Helmet Mirror
1 of 1 customers found this review helpful.
Purchased this for my new road helmet. The good, it was easy to mount and adjust and holds adjustment well. The not so good, like stated in previous review's the mirror arm is thin and the mirror tends to bounce alot to the point that on rough roads it's useless.
Thank you for your feedback.
Too small, would purchase another bramd
Cycling Enthusiast
Florida
Functional mirror
Cycling Enthusiast
Walla Walla, WA
1 of 1 customers found this review helpful.
This mirror is inexpensive and easy to install and use. It takes a while to figure out how best to adjust it and to get used to it, but after a few rides it becomes a habit to check it. It makes checking what's behind me easier and safer, which means that I'm checking more often, which is a good thing. It does jiggle a little bit if you're on a rough road, but I can generally still see if there's something behind me, so that's not a huge issue.
Thank you for your feedback.
A great product that adds to safety
Competitive Racer
Roanoke VA
3 of 3 customers found this review helpful.
You have treat your training helmet with special care once you put a mirror on. I super glue the mirror on after it gets knocked off a few time. It's a great benefit in watching vehicle's that are behind along with fellow cyclist. It save your neck and body from always twisting left to look behind while your blinding flying forward, which adds to safety.
Thank you for your feedback.
Small and difficult to use
I tried this mirror as an alternate to a small mirror on the end of one of my drops. For me it is not a good solution. Too small to be useful. I pulled my bar end mirror off and used this one for three long rides just to force myself to get accustom to it. I could never make the adjustment. It actually made me a bit dizzy trying. To be fair this may be my issue and others may find it works for them.
Thank you for your feedback.
Bouncy view to the rear
Cycling Enthusiast
Sacramento, CA
1 of 1 customers found this review helpful.
I've been using Third-Eye sunglass-mounted mirrors for years now. They provide a stable rear image. When I purchased a Giro Air Attack helmet with built in sun shield, I needed a helmet-mounted solution, thus the Blackburn.
The Blackburn's mirror bounces around at the end of its tube quite a bit, the tube is more flexible than the Third-Eye's. I can still make out bulk objects behind me but sometimes mistake large stationary objects for vehicles. When still, when I least need it, the image is clear. So far (2 weeks) the mount is sticking to the helmet just fine.
Bottom line, it is serviceable-I can see well enough to know that someone is coming up on me-but I could do better. I would look at other mirrors before replacing this one with another of the same.
Thank you for your feedback.
It's ok!
Cycling Enthusiast
Magee, MS
The best helmet mounted mirror ever!
Cycling Enthusiast
Maryland