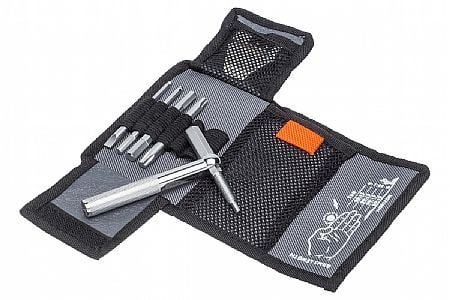 Nice design
I like the way this tool packs. Very easy to carry in a jersey pocket or saddlebag. It has a good variety of tools and you can actually generate some leverage with it. I have used it some around the bike shop to familiarize myself with it but not in an emergency repair yet. It appears to be well built and nicely engineered.
Thank you for your feedback.
Great Tool Kit
I threw this in my bike bag and forgot about it until I had a chain link come loose 10 miles from home. I dug out the tool kit and was very relieved to see it included a chain tool. The ride was saved. Now any time a saddle needs adjusting I do not hesitate to stop mid-ride, pull out the tool kit and make micro-adjustments.
Thank you for your feedback.
Good value and well made multi-tool.
Cycling Enthusiast
Seattle, WA
I like this tool a a lot. Being able to use it as a T handle or straight driver is good. Seems well made but the case could be better designed - does not fit snugly enough. Good selection of drivers. I haven't used it in battle yet so will see how it goes.
Thank you for your feedback.