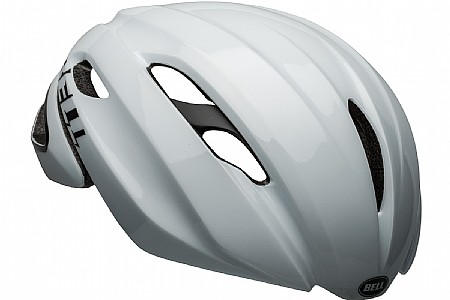 Comfortable Aero Helmet
Cycling Enthusiast
St. Paul, MN
1 of 1 customers found this review helpful.
I have a large head. This helmet is comfortable, strap length is good, and seems aero. Tried Giro Synthe and Met Manta this was the most comfortable for me. The only negative on the Bell is not much air flow through the helmet, so I will probably use my Z20 on hotter days.
Thank you for your feedback.
Well-designed, quality lid
Competitive Racer
BlueRidge Mountains NC
I've had a "Bell head" from the very beginning, more oval in shape than round. Probably had seven or eight Bell road, mountain and TT helmets through the years, but one newer feature found the last few is the engineered "sweat channel" in the front brow pad that draws moisture away from the brow and out towards the tip of your nose where it can drip down and not tarnish your glasses. You might get a few drips on the outside but nothing like the deluge that typically drips down the inside of your lenses and impedes your vision. This tiny little feature alone makes Bell a worthy choice. Catch a sale and it's a smokin deal.
Thank you for your feedback.
Great semi-aero helmet
2 of 2 customers found this review helpful.
I will not labor a review other than state this helmet works great to cut through the air and help with especially windy days on the saddle. Why do I say semi-aero? Well, it does have venting while a true aero has none to catch air. But people will complain coming from a traditional road helmet with numerous vents that this helmet is too hot. Of course it is a bit warmer due to minimal venting so it is, yes, aero more so than a traditional helmet. There is a fix on that wear a skull cap to absorb the sweat. Fits true to size and is well constructed. Really loving this helmet even though I purchased elsewhere.
Thank you for your feedback.