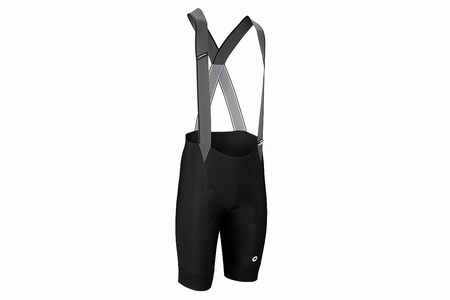 Highest quality bibs I have ever owned
Cycling Enthusiast
Lost Angeles, CA
I wear these regularly. Most rides are around 2-3 hours. I have no complaints. I find the suspenders more comfortable than the overall style. The pad is plush. The fabric is super comfortable and the fit is functional. The price is high, but you get what you pay for.
Thank you for your feedback.
Comfortable Bib Shorts
Casual Cyclist
Portland, OR
7 of 7 customers found this review helpful.
Very comfortable shorts. I'm 6'3" 180lbs, Large fits me great. The materials are top quality, slight compression on the legs, but very comfortable. Straps have enough stretch to keep things in place without feeling restrictive. I'm slightly taller than Assos recommend for Large, but have not had any issues. I've got an older pair of Assos bibs with the S7 pad which I'm a big fan of. The pad in these feels slightly denser, which I found more comfortable on the sit bones. Like the S9 pad, I'd still prefer slightly less material in the groin area. Best thing about Assos shorts is the pouch up front for your junk...keeps things nicely in place.
Thank you for your feedback.
Good, but not as good as the previous generation from Assos
Cycling Enthusiast
Pacific NW
These bib shorts are pretty comfortable, but not as good as the previous generation with the S7 chamois. The chamois on the Mille GTS is just not as good, yet plenty expensive. I wish I could still buy the bib with the S7 chamois.
Thank you for your feedback.
Great, almost perfect bib shorts
8 of 8 customers found this review helpful.
I own a couple of mid-range Pearl Izumis, a pair of Castelli Free Aero Race 4s, and these. The Castellis are very good, but I like these a bit more. They have very different strengths and weaknesses.
The best part of the Mille GTS shorts is the pad. It's quite thick, has a great shape, and provides room where needed. Importantly, it includes a cutout. A saddle cutout does nothing if you have a plywood pad and only provides a benefit if the pad complements it. These shorts let me sit a bit more aggressively without discomfort.
My main complaint with the Castelli shorts is the lack of room up front. They are tight up there! The Assos shorts have a natural pocket that gives some room. It's like going from a studio apartment with no place to store your bike to a place with a proper garage.
These shorts definitely provide compression on the thighs. I'm 6-2, 190 lbs. and I went with large size based on a previous review. They fit fine, but I might prefer XL for more comfort. I must be a tweener and got a race fit over a comfort fit. Choose up or down, depending on your goal.
The materials are top notch and the leg grippers work well. (Same for the Castellis.) Where the two differ are the shape and straps. The Castelli straps are super light and attach close to one another at the waist. I find this comfortable. The Assos straps are heavier, stay perfectly flat, and fall wide down the torso. This is great if you don't want straps on the nipples. It's not as great at the waist. The waist cut is very straight and if the stomach has a natural fold, the top can be irritating. My solution is to always wear a base layer with them. I find it necessary with these, but not with my other bibs.
One last negative. On my first ride, I had a touch of chafing at the very top of the inner thigh. Applying a bit more cream there solved it.
Anyway, the pad is great, though it's so thick that it takes a bit long to dry. Oh well. The Castelli pad is a bit firmer and thinner and dries faster. With the cutout and bit of room up front, the Assos still wins.
My perfect bib shorts would have the Castelli cut and the Assos pad. Given that the pad is the key to comfort and I can mitigate the cut with a base layer and a bit of cream, these are my clear choice - especially for longer rides. If the Castellis had a bit more room where it counts, they would take the prize. Until I find something better, I'd buy these again.
Thank you for your feedback.
Usual Assos excellence, not noticeably cool.
Cycling Enthusiast
North Carolina
2 of 2 customers found this review helpful.
I've used these shorts on several 75+ mile rides in temperatures ranging from the 60s to the 80s. They are comfortable, fit well, and provide good padding. I also have a pair of the more expensive Cento Evo. I like the Cento more. The Mille has a tighter fit with more compression, is not noticeably cooler, and has less sit bone padding than the Cento. If that's what you like, great. But for me it is only my second favorite pair of shorts. Still better than my Segoi shorts (my old favorites) but not as good as the Cento.
Thank you for your feedback.
Great for long rides
3 of 3 customers found this review helpful.
Very well made as you might expect from Assos, this is the first pair of bibs I've gotten from them and they are as nice as I had hoped. The longest ride I've for so far is 68 miles and they stayed comfortable the whole time, the chamois feels strange when off the bike but once seated it pretty much disappears. There is a lot of material up front that takes some getting used to but it's nice to hide the junk from the public eye, no one really wants to see that if we're going to be honest. These don't stretch quite as much as other bibs so if your in between sizes or have big legs you might want to size up. These are expensive and really don't seem much more comfortable than Castelli's bibs but if they last a long time as other reviews I've read have mentioned then they are definitely worth it.
Thank you for your feedback.
Ul;timate comfort for 100+ mile rides
Cycling Enthusiast
Amherst. MA
1 of 1 customers found this review helpful.
I didn't realize how important bibs are until I began doing rides in excess of 100 miles. I took a risk on this purchase with the hope that they would remain comfortable on rides exceeding 8 hours. They delivered. I am very happy with my purchase and recommend them if you sit in the saddle for many hours.
Thank you for your feedback.