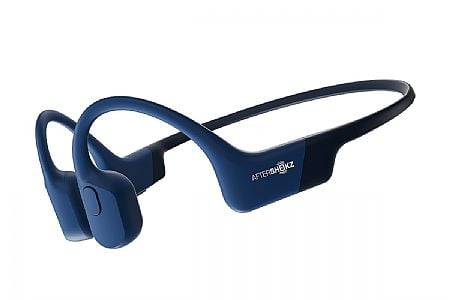 Truly superb!
Cycling Enthusiast
Bonney Lake WA
3 of 3 customers found this review helpful.
These are the best headphones I have used. The paired with my iPhone instantly, they have great sound and sufficient volume that I can use them when cruising at speed on my bicycle, yet I can, at the same time, hear cars and other ambient sounds needed for safe riding. The one drawback soon to be corrected is that they only last about 3 hours, sufficient for most of my rides, but far less than advertised. I contacted Aftershokz customer service and they are sending me another set. I call that superb customer service. These are definitely worth the price.
Thank you for your feedback.
Safer than earbuds
Cycling Enthusiast
Minneapolis
2 of 2 customers found this review helpful.
I like using music to keep focused while out riding, but wouldn't wear any headphones that prevented me from hearing what is going on around me. These allow me to still hear anything from a car coming up behind me on the road to a cyclist quietly announcing their presence as they pass me on a cycle path. Wind will get in the way of the sound, but any headphones will have this problem. These do need charging between longer rides, as I've found battery life at a volume high enough to hear the sound clearly (about 3/4 max volume on an iPhone) is around 4.5-5 hours, and the one time they've died on me it was fairly abrupt, but I had just arrived home. I would definitely recommend these for listening to music (and turn by turn if you are navigating with a phone) while out riding.
Thank you for your feedback.
Awesome product!!
Cycling Enthusiast
Portland OR
7 of 7 customers found this review helpful.
Incredible comfort! Easy to use, great sound quality. These are just a few of the thoughts I have had while using this product. Not having to shove something in your ear is great! They are so lightweight and comfortable, I sometimes forget I am wearing them. Great sound quality, even on a ride! With other headphones, you have to stop riding to take a call. I have taken calls while still in motion with these and the caller cannot only hear me, but doesn't know that I am on a ride.
The controls are fairly intuitive, most tasks are handled by one button. I like listening to music on some rides and can still hear traffic and the World around me. Do your self a favor and get a pair of these. Can't wait for the gyms to reopen so I can try the other pair I bought that are an MP3 player that you can SWIM with and listen to music. That is literally music to my ears.
Thank you for your feedback.
outstanding sound plus your can hear whats going on around you !!
Cycling Enthusiast
los angeles Ca
Poor battery
4 of 5 customers found this review helpful.
The battery deteriorates very quickly. I'm on my third pair after warranty exchanges. 6 months out from brand new and I get less than an hour out of a single charge on all three pairs, very frustrating if you want these for long runs.
Thank you for your feedback.
Decent sound, but wind noise is a problem
4 of 5 customers found this review helpful.
I got these in order to be able to listen to music while riding, without blocking other noise. I found the volume to be adequate and the sound is decent, given that you're not covering up your ears. But when I took them out on my local training ride, I found that when I was going faster than about 10 mph, the wind noise blocked out the music. It was fine when I was going slower up a hill.
I do find them comfortable, and have enjoyed using them to listen to news or music while working in the back yard. They are not bulky and stay in place well.
Thank you for your feedback.