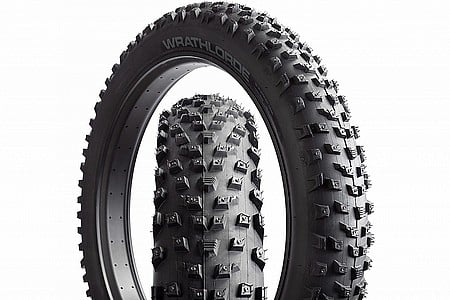 If keeping rubber side down is your priority.....
Competitive Racer
Minnesota
1 of 1 customers found this review helpful.
I have run the Wrathlordes on 5 X 1-1.5hr rides involving groomed packed snow, loose new snow, re-frozen melted snow and asphalt. The drive traction and steering grip is far, far above any other studded fat tire I have ridden to date (D5, Wrathchild 4.6, Wazia, Cakeater, Specialized Ground Control 4.6 (the only un-studded ridden on snow). The only tradeoff experience vs other studded tires is higher rolling resistance as compared to D5s and Cakeaters. About the same as Wrathchildren.
I measured D5, Wrathchild and Wrathlorde with calipers at 8psi tubeless on same rims side by side and found the two Wraths had identical measurements of height and casing width, even though they are labeled as differing widths. The D5 is marginally wider than the WC and WL....marginally, like a few mm. Cant say for sure, but sure seems like three different treads on the same tire carcass.
For fastest rolling and accepting some wash-out of front wheel on drop edge from packed to soft snow I'd go with D5s. If speed is not the priority the Wrathlorde give up little in that dept for a massive gain in traction and cornering grip / control. Wrathchild is the slowest rolling, but best in soft snow. The tall, wider spaced nobs cut through better.
WC and D5 are both totally shamed by the WL on glare ice.
Regarding loss of studs I have read about here and elsewhere, I have experienced zero. I think if it was going to be a significant issue it would have surfaced by now. My guess is 45NRTH / QBP fixed the problem. You'll notice those posts are aged.
I gave the WL a 3 star value rating as I gag a little when I recall coughing up almost $600 after tax for a set of bicycle tires. Better value than a trip to the ER, surgery and an old age of arthritis pain drugs though I am still a bit queasy from contemplating it again.
Thank you for your feedback.
Money hole
Cycling Enthusiast
Minnesota
1 of 4 customers found this review helpful.
After 2 rides on these tires, I've lost over 100 of the carbide-tipped studs. These are outrageously expensive to begin with and keeping them studded is absolutely not going to be possible. What a terrible design.
Save your money.
Thank you for your feedback.
Amazing traction, not the fastest rolling
Competitive Racer
Cedar Falls, IA
6 of 6 customers found this review helpful.
FIrst off, these suckers are crazy expensive. There's no getting around that. I justified it because I will likely never wear them out, even riding as much as I do in the winter. However, having ridden studded Dilinger 4's and 5's, the traction on the Wrathlorde's is supreme, in both snow and on ice. The tradeoff is slower rolling speed, definitely vs the 4's and probably also vs the 5's. Tubeless setup on these was great, no issues on HED Big Deal 85mm rims. The tire rides nice as well with good damping and sidewall stability, which isn't as easy to get right as it might seem. Overall, 4 stars because I did notice a big increase in rolling resistance vs the Ground Controls and 45Nrth Flowbeist combo I had on before.
Thank you for your feedback.
Text the wrath child to a completely different level Velcro