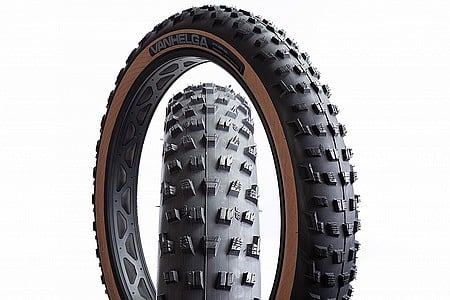 A really great fatbike tire for winter!
I run an offset-frame Surly Pugsley. I wasn't all that thrilled about the tires I had been using in the winters - Surly Nates. The offset-frame Pugs is spec'd to run a maximum width of 3.8" tire due to the clearance in the rear of the frame. This 4.2" wide Vanhelga fits just fine, with about as much clearance as the Nate. I bought one from WBW last winter to see if the tire would actually fit - and it did. I immediately ordered a second one - but it was sold out. It took nearly a year on backorder to get this one - and kudos to WBW for hanging in there with the order. So now I'm set for the snow. The Vanhelga is a fairly heavy tire, but the excellent traction and tracking on snow and slush is well worth it IMHO. FWIW neither Surly nor 45nrth would say the tire would work on the Pugs.
Thank you for your feedback.
Great in the snow! A Pugs upgrade...
1 of 1 customers found this review helpful.
Needed new winter tires for my offset-frame Surly Pugsley. Not completely bowled over by the Nates I eventually wore out. I was hesitant to order Vanhelgas for the Pugs, as the "official" limit to tire width on my bike is 3.8", and these new Vanhelgas are "officially" 4.2" So I took a chance and bought this one - and it fit on the rear with plently of clearance, inflated to sufficient pressure for riding on snow-covered asphalt. I immediately ordered another one for the front. MUCH better than the Nate in terms of traction, especially in slush and ice. The Vanhelga seems like a really monstrous, heavy tire with a ridiculous amount of tread and siping, but it doesn't feel sluggish, even on dry pavement. I like it a lot!
Thank you for your feedback.