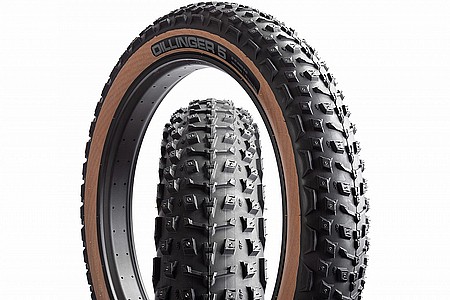 User submitted reviews
Review by Clymmer
Built for traction and stability
Tires came promptly from Western Bike Works. Great service. These studded tires are amazing on ice...solidly secure grip is a huge confidence booster for winter riding. By definition, studded tires are going to be relatively heavy and significantly more expensive compared to non-studded tires. That said, 1) it's cheaper than a hip replacement or shoulder surgery that could result from an icy fall and 2) heavy and durable is much better than light and dainty in snowy/wintery conditions.
I was not able to take these tubeless on my HED Big Alloy Deal (BAD) rims. (These rims took my Schwalbe Jumbo Jims as tubeless instantly, for comparison.). I am running them tubed for this winter and notice the extra weight of the studs and tubes...but I call those #FitnessOpportunities and just appreciate being able to ride in the winter with nearly no fear at all. The only place where falls can happen are if there's a loose layer of slush or snow on top of the ice. If the studs can't get to the ice to dig in, then you can still fall/slip. That said, once you know this, it's pretty easy to read the road/trail to avoid or adjust to that situation as needed. If it's solid ice (like on a lake or something), ride on...because it's awesome!
I love the gumwall look on my 9Zero7 Tundra fat bike. So much fun!
Thank you for your feedback.