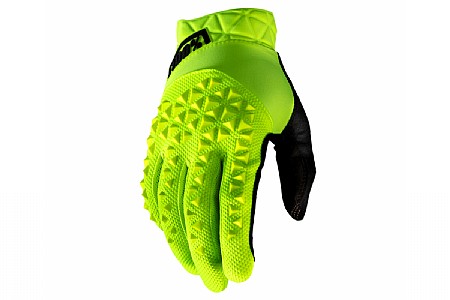 Good grip, bad for the nose
Are you a nose wiper when you ride? If so, these are not the glove for you.
The good:
-Super nice touch on the inside, hand modulation is good while wearing the glove.
-Palm side of glove is just the right thickness to allow for tactile feelings from the handlebars.
-Tech threads are nice. Not the best, but very nice. May just take more getting used to.
-Glove stays cool in warmer weather (high 80s)
The Bad:
- Those raised triangles on the back. First time I went to wipe my nose, I forgot about them, and bam, got hung up on a nostril.
� on another ride while descending, a quick nose wipe turned into a bloody nose from wiping to hard and quick. Not necessarily the gloves fault, but also not end user.
-Glove is slightly tight to get on to a medium sized hand. May recommend sizing up if you want to use it for riding. Alternative use- Great for Halloween alien or reptile costumes.
Love all the other parts about this glove except that �armor�
Thank you for your feedback.
Great fit and feel on the bike. Light weight.
Cycling Enthusiast
Seattle, Washington
Really liked these gloves from the first ride. They are snug, but very comfortable. I wear an XL and felt they fit true to size. Feel great on the bike. No hand pain despite how lightweight the gloves are. They have started to come apart a little bit after a half dozen washes. Wish they were a little more durable.
Thank you for your feedback.
Sized on the small side
I bought the XL like I always do with gloves but they are too tight. Hard to get them on, and when I finally do, uncomfortable with that cutting-off-the-blood feeling. And what's with the ultra-thin palm. If you go down, you'll feel the signature of each and every rock, And the little pyramids on top? Nice gloves if your kindergarten teacher is rapping you on the knuckles with a ruler, but kind of silly out on the trail.
Thank you for your feedback.
These gloves are a perfect combo of grip and style.
Competitive Racer
Bellevue, WA
2 of 2 customers found this review helpful.
I bought these gloves to use while racing on the velodrome. They fit true to size, I recommend buying a size down if you want extra grippy-ness. They are light enough to wear even at summer temps here in the PNW. I recommend.
Thank you for your feedback.
Sized on the small side
Cycling Enthusiast
BINGHAMTON, NY