Product Images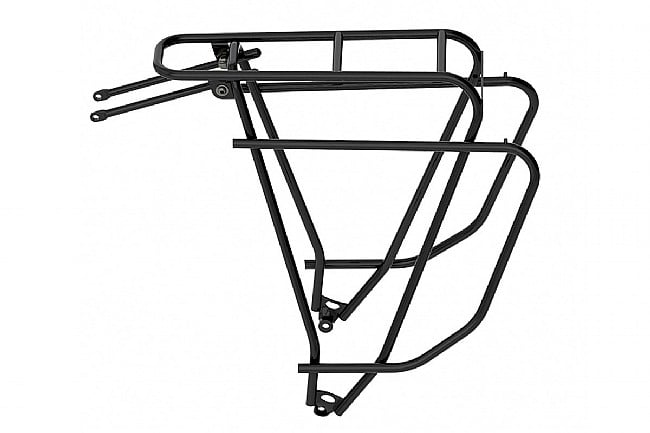 Click to zoom
Description
The ultimate touring rack when heel clearance is an issue.
The Tubus Logo features a lower bag mounting bar to improve the center of gravity and optimize the use of upper loading area. This design also facilitates mounting on smaller frames. Since bags are mounted further aft, they permit more heel clearance.
This new Evo model features the new 3D attachment feet for improved impact absorption and integrated screw attachment. Thin walled 25CrMo4 steel tubes easily tote enough gear to take you across the country - or around the world - without tacking superfluous weight on to your rig. New super light mounting hardware drops a few more grams.
Additional Features:
Thin walled 25CrMo4 steel tubes
Large platform and pannier supports
Tested with all common bag-attachment systems to eliminate vibration
88 lbs (40kg) load capacity
730g (rack only)
Installation hardware included (148g)
Fits most bikes with 26"and 700c wheels
Made in Germany
Black
All Tubus racks are backed up by a 30-year Worldwide Guarantee against technical failure. The Logo and other CrMo models are also supported by an additional 3-year Mobile Guarantee against technical failure. This means, within the first 3 years after purchase date, a broken carrier will be replaced and a new one will be forwarded to any place on earth - wherever you are - for free. Please see the Tubus website for warranty details.
Returns: This product is overweight and/or oversize and does not qualify for our fixed rate return shipping label. If you need to return this item, we can offer a return shipping label at our discounted shipping rates, or you can arrange for your own return shipping.
Overweight shipping charges apply for this item so shipping promotions for other products may not apply. To get a shipping quote, add the item to your shopping cart and click the Get Shipping Quote button.
B-Stock - This product has one or more B-Stock units available. These units can be purchased at a discount (see option select). B-Stock units were returned from other customers and may have missing or damaged packaging materials. These units are otherwise as new. The full manufacturer warranty applies. Click Here for more information.
Reviews
Ordered by Most Relevant First
Great rack for road touring or bikepacking
Cycling Enthusiast
Redding, CA
5 of 5 customers found this review helpful.
I own two of these racks, with one on my Surly Disc Trucker road/touring/commuting bike, and the other on my Salsa Fargo bikepacking rig.
The build quality is superb, and at 21 ounces they are surprisingly light for a rack rated to carry 88 pounds, which is far more than I ever hope to have to carry. I like the lower side rails that let you mount panniers for a lower center of gravity and better stability. Tire clearance is excellent, even on my Fargo, which has a 2.3 inch rear tire and wide fender. I prefer tubular steel for its superior fatigue strength and durability as compared to aluminum alloys, which can be important on bikepacking trips in rough terrain when you can be several days from civilization.
Thank you for your feedback.
The wait was worth it!
Casual Cyclist
Fayetteville, AR
It seems this is a very in-demand rear rack, as it should be. I waited for WBW to get them in for several months, as they had the best price I could find online. They came with all necessary parts for installation and look really good on my bike. I have large feet (size 13) and my feet don't strike my panniers due to the offset rack to hold my panniers. This is certainly one of the more expensive racks, but for something that is carrying my work clothes, phone, laptop, shoes, I do not mind the higher expense for greater peace of mind. I will definitely buy again for my n1 bike.
Thank you for your feedback.
Strong and low centered
1 of 1 customers found this review helpful.
You can beat a steel rack. The lowered mounting bar for my panniers was the main reason I chose this rack, and of course the durability of chromoly steel. Itll hold 2.5X more weight than my previous aluminum rack. I also have the Tubus Tara Lowrider rack for the front which has been awesome and I will continue to purchase Tubus if the need ever presents itself. These racks fit my Surly LHT like they were designed specifically for it!
Thank you for your feedback.
Great rack. Have been using it to carry 60lbs of groceries regularly.
love this rack because it is very stiff and eliminated bike shimmy when moving.
Cycling Enthusiast
central Mass.
3 of 3 customers found this review helpful.
I have a new specialized AWOL touring bike that was set up with an inexpensive rear rack. When the Ortlibe panniers were on, the bike would have front end shimmy over 15 miles per hour that was very annoying. This rack was noticeably stiffer and eliminated the shimming. Even though the price was also stiff, I am very pleased with the way this rack lowers the center of gravity and makes the bike handle better.
Thank you for your feedback.
perfect fit
3 of 3 customers found this review helpful.
I put this on my 2017 Budnitz No3 - it fit perfectly above the flat fenders and no issues with clearance with the fender hardware. I have pannier bags on it for my 44 mile round trip commute to work. would buy again. 4 stars on value only because I dont understand why all racks cost as much as they do.
Thank you for your feedback.
Lightweight, not crazy about Torx hardware
Cycling Enthusiast
Bay Area, CA
10 of 10 customers found this review helpful.
I replaced my Surly rack with the Logo Evo and, so far, am happy with the decision. Also made of steel, I expect the rack to hold up to a long tour. The lowered side bars for panniers are great... this allows for my Ortlieb Back Rollers to go on the side without blocking access to the top flat part of the rack. In my case I am using an Ortlieb Rack Pack across the back... works great. The rack is much narrower than the Surly (where there's clearly some of the weight savings), but it makes no difference using the Rack Pack (might be worth considering for someone planning to bungee a bunch of stuff to the rack).
The main complaint I have is the hardware... all of the bolts are Torx instead of Hex, requiring that I bring a Torx wrench on my tour. Likely, I'll end up re-installing using Hex hardware so I can stick with just allen wrenches. Also, installing the stabilizing bars was very tricky on my Disk Trucker... actually had to use pliers to turn the Torx screws because the angles were impossible to fit a wrench.
Thank you for your feedback.
Easy to install, light, and very sturdy
2 of 2 customers found this review helpful.
It looks really nice, very intuitive design, and sturdy. What initially drew me to the rack was the warranty. They'll replace it if it breaks no matter where you are. I also really liked I could attach the bags in a high or low position.
Thank you for your feedback.