Product Images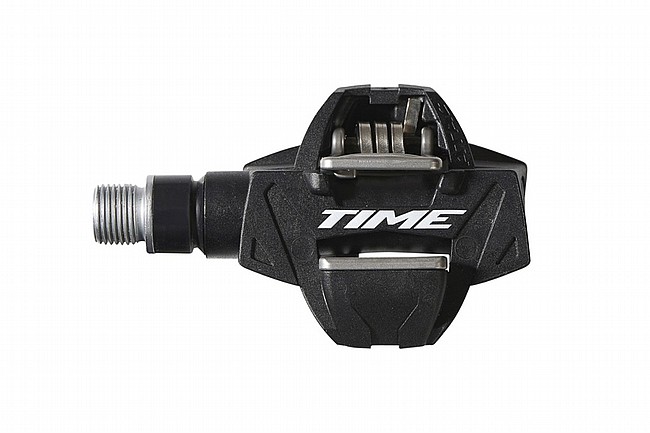 Click to zoom
Description
Compact XC Pedals with Dual-Sided Entry
Slotted into the French pedal manufacturer's cross-country hierarchy between the XC 2 and XC 6 Pedals, the Time ATAC XC4 Pedals enjoy all the best features of the former with the hollow steel axle of the latter. This results in a resoundingly lightweight, low-profile, and durable pedal for cross-country riders, only sacrificing a mere 23 grams per pedal from the creme de la creme ATAC XC12 Pedals.
XC 4 Pedals employ Time's Auto Tension Adjust Concept (ATAC) design, which operates with a self-cleaning interface that sheds muck and mud upon entry. This means you won't have to struggle just to engage in the pedal while riding in muddy conditions. Three different tension settings adjust the sensation of the five degrees of float, allowing you to find the perfect amount of resistance or freedom to suit your particular riding style. Six millimeters of the lateral float allows for subtle side-to-side movement of the pedal, so you can find a more comfortable pedaling position.
The XC 4's cleat is reversible, so you can choose a release angle of 13 or 17 degrees. Choose the release angle of 13 degrees to bail out quickly or remain locked in while racing and training with the 17-degree cleat configuration. With a lightweight yet durable design, the Time ATAC XC4 Pedal makes for a ride you won't soon forget.
Features:
Lightweight, low-profile, durable pedal for XC riding and racing
Composite body keeps it lightweight and durable underfoot
Hollow steel axle reduces weight while retaining strength
ATAC dual-arch system sheds mud and dirt for easier entry
+/- 5° of angular float with three spring tension settings
6mm of lateral float provides a comfortable pedaling position
Reversible cleat allows for either 13° or 17° release angle
Weight: 290g claimed weight
---
B-Stock - This product has one or more B-Stock units available. These units can be purchased at a discount (see option select). B-Stock units were returned from other customers and may have missing or damaged packaging materials. These units are otherwise as new. The full manufacturer warranty applies. Click Here for more information.
The product weight specified is an approximate weight based on the manufacturer's specifications (if available) or our measurement of one or two examples. For most products, the weight will typically vary by 5% to 10%.
Reviews
Ordered by Most Relevant First
Time ATAC are the best
Competitive Racer
Portland, OR
Review for Time ATAC XC 8 Carbon Pedals
1 of 1 customers found this review helpful.
Been running these pedals (more or less) for what seems like two decades. Bulletproof, fairly lightweight, shed mud, decent platform for when you can't clip in, no sharp edges to dig into you. The XC8s seemed like the perfect combination of price and performance.
Thank you for your feedback.
Lightweight, stable pedal
Review for Time ATAC XC 8 Carbon Pedals
I like them
Cycling Enthusiast
Eugene
Review for Time ATAC XC 8 Carbon Pedals
3 of 3 customers found this review helpful.
Sheds mud well, and clips in consistently. No reliablility issues after several rides. Older batches apparently did. I do like how easily they clip out. Would recommend for those who may have avoided clipless pedals due to fear of not being able to unclip easily.
Thank you for your feedback.
Very versatile Pedals, though probably not for road bike purists
Cycling Enthusiast
Hudson Valley, N.Y.
I recently purchased an updated version of Time ATAC pedals, specifically their XC 4. The spring "clips" are new as is there mounting, which no longer requires a pedal wrench. (They're threaded, so you grease them and turn them in by hand.) I have one or another version of Time ATAC pedals on all of my bikes since they work well and there isn't a learning curve once you get used to them.
Pro's: Easy to install, mount, adjust, and clip in and out of + they come with cleats and mounting screws. I.e., there's plenty of "float." Almost forgot, you can walk around in them without slip sliding every which way. Btw, I got mine on sale, so that's an advantage as well.
Cons: Maybe weight, and supposedly not as efficient as road bike pedals. However, I'm not a bike racer, so that matters not a wit to me.
Thank you for your feedback.
Cost effective Time ATAC pedals
Cycling Enthusiast
San Francisco Bay Area, CA
I've been using various Time ATAC pedals within the past decade including Alium, XS, XC2, XC4, and XC8 models. Unfortunately, I had a rock strike on one of my XC2 pedals and damaged one of the retention clips.
When I went to shop for a new one, I looked at the XC2, XC4, and XC6 models. If you look at the weight across these, you'll notice the difference is minimal but especially between the XC4 and XC6 models where the difference is less than a handful of grams.
More than happy with the XC4 which is a fantastic value for the price.
Thank you for your feedback.
an upside and a down side
Seattle
Review for Time ATAC XC 8 Carbon Pedals
Upside: the float. It�s not quite like Speedplays but with the provided cleats it�s either slightly more than Shimano SPD or way more than Shimano. I personally thought the 17 degrees was so much it hindered ability to unclip.
Cleats sit deeper into shoes than Shimano.
These in particular from Bikesdirect are the updated ones with the black spindle as shown. Many retailers online are still moving through old supply with the red spindle. Both are same models.
Downside: Biggest downside I�d say is the cleats don�t allow you to move laterally inward or outward to accommodate q factor leg discrepancies and over lonnng gravel days this can add up to injury.
having to commit to Time style pedals on all mtb style pedal bikes. If starting out or only have one bike, not a big deal at all.
I ended up going back to Shimano style only because of the cleat positioning issue. I did still very much appreciate Time having the great float though.
Equal: weight (maybe negligibly lighter on these)
Thank you for your feedback.
Solid pedals for offroad riding
Cycling Enthusiast
Santa Cruz, CA
Review for Time ATAC XC 8 Carbon Pedals
1 of 1 customers found this review helpful.
I bought these pedals for my gravel bike as I could no longer get cleats for Speedplay Frogs. The Time pedals are easy to clip in and out, and have worked fine in about 500 miles of riding. I wish they had more angular float and the lateral float they supposedly have I can't feel. That being said, no issues with my knees and I appreciate the mud shedding of the Times, much better than the Frogs.
Thank you for your feedback.
Good all around mtb pedal
Competitive Racer
Detroit, mi
Review for Time ATAC XC 8 Carbon Pedals
Time ATAC - the Allroad pedal
Cycling Enthusiast
Kansas
Review for Time ATAC XC 8 Carbon Pedals
Long time ATAC user whose pedals are installed on all my bikes: road, gravel & cx. 2500+ miles on the XC8s which are easy to clip into, clip out of and perform well in fast group road rides & gravel racing in dry and sloppy conditions. XC8's are light enough with durable steel axles in which you can pedal confidently.
Thank you for your feedback.
I loved them until they broke
Competitive Racer
Mass
Review for Time ATAC XC 8 Carbon Pedals
1 of 1 customers found this review helpful.
Bought these about a year ago for CX racing. loved the float and ability to shed mud, much better than SPDs. But today on an ez spin the pedal body broke and the rear spring mechanism popped out. While I liked them, i've never had a mechanical problem with SPDs. going back to Shimano.
Thank you for your feedback.
Great pedals!
Cycling Enthusiast
Kirksville, MO
Review for Time ATAC XC 8 Carbon Pedals
Excellent cross country and gravel pedals
Vancouver, WA
Review for Time ATAC XC 8 Carbon Pedals
Articles
Articles will open in new tab.
Comparing bottom bracket types and standards.
You wanna go fast? Join the ceramic revolution!
Make your upgrades count. Here's the equipment that will help you ride your bike faster.
What to consider when selecting a crankset for your road bike.