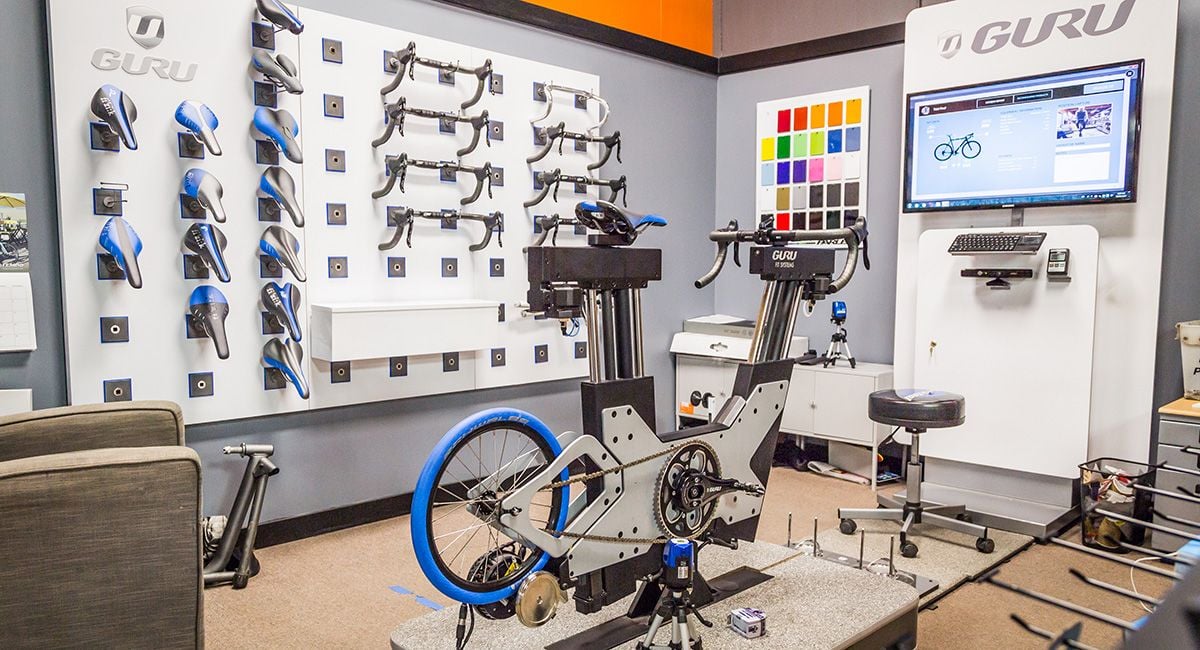 Our in-store GURU Dynamic Fit Unit is the only one of its kind in the Pacific Northwest. Choose from our list of services and book with one of our fitters HERE.
Wondering why your race bike is giving you neck pain? Thinking about trying clipless pedals, but you're not sure which system is best for you? Looking for a brand new bike and hoping to test ride several different styles? We're here to help. Our GURU Fit Experience combines to-the-millimeter adjustments in real time with instant data feedback. You'll work directly with a certified bike fitter to analyze your riding position from start to finish, view performance metrics, and feel the dimensions that work best for you.
Our Dynamic Fitting Unit applies your perfect fit information to actual products, so you'll walk away with more than just numbers. With a Pedal Finder Fit, you'll learn about and test ride different pedal systems to figure out what works best for you. Our Bike Finder Fit is the ultimate virtual test ride, letting you test ride different bike models and sizes without ever leaving the store. Our Basic and Comprehensive Bike Fits optimize your riding position to perfect the fit on your current bike, discuss your specific biomechanics, develop a training plan, or recommend the best new bike choices for your body. To determine your ideal cycling position optimized for aerodynamics, efficiency and power, our Tri/TT Fit gives you the competitive edge. For a truly tailored experience, our Full Fit Experience incorporates custom options, a Bike Finder Fit, and a Comprehensive or Tri/TT Fit to determine your ideal setup. From the ultimate touring machine to the triathlon superbike, we do the research, ordering, and customizing to make your dream ride a reality. Whether you're considering a new bike, working with our pros to create a custom-built race machine, or tuning the fit of your current commuter, our in-store fit services will help you maximize your riding potential and bring a smile to your face.
Have additional questions, or need to book outside of normal fit hours? Get in touch at [email protected]
To book a service with a certified bike fitter, click here.