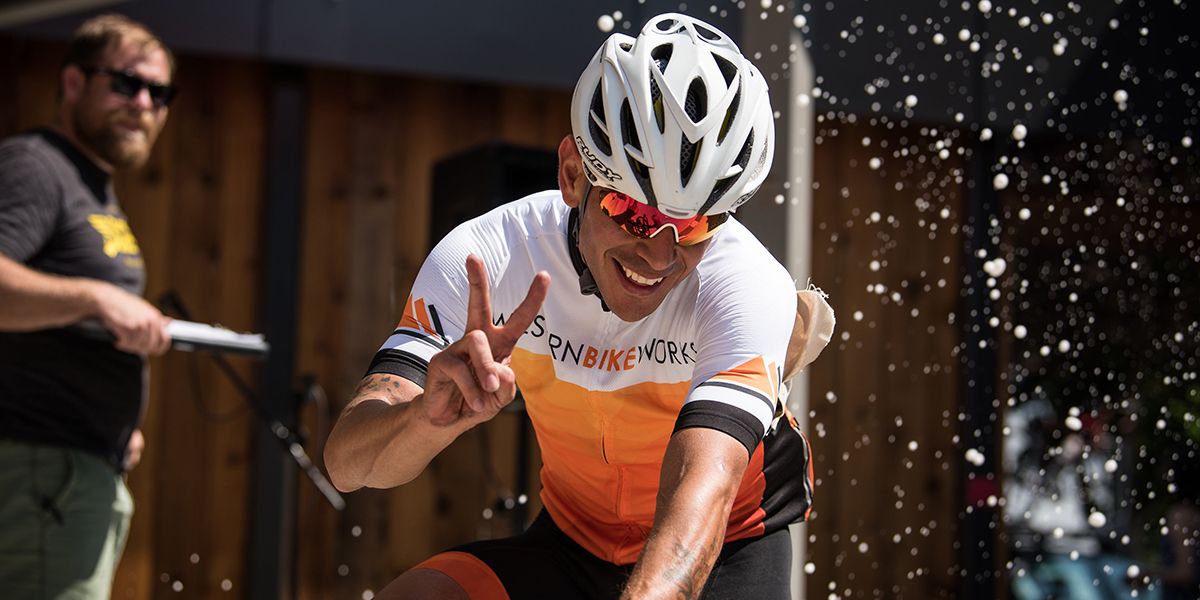 Photo by Harry Apelbaum, Apelbaum Studios for Swift Summit NW
Why I Ride: Meet Felipe Nystrom, Western Bikeworks Sponsored Rider
How did you get into racing bikes?
As a kid, I was very into sports. Soccer and gymnastics were the ones I got into first. On my way to soccer training one day, we heard a lot of loud sirens coming closer and closer, so we pulled over. At first I thought there must have been a bad accident, but when I saw the police cars and motorcycles, I thought "They're going too slow to be heading to an emergency." Just as I thought that, a breakaway group of 5 cyclists sped by, then more sirens, cars, and finally the peloton. They flew past me. I'll never forget the sounds the tires made. The colors on the kits. The caravan. Everything about it was the coolest thing I'd ever seen. I got goose bumps. I still get them when I think about that day! I was 11 at the time, and I got a job as a caddy, saved my money, and at 13 got my first "real" mountain bike. I joined my town's team in Santa Ana, Costa Rica and started racing.
Tell us about your first race experience.
My first race experience was in a small town called Dan Rafael de Alajuela. It was a very small local mountain bike race. There was a section where we had to cross a river with our bikes shouldered, but because I was so small the river was over my head. I managed to get across the river on all three laps, and by the time I was done I thought I was going to pass out. I don't think I'd ever felt so tired! I ended up finishing 3rd and got my first trophy ever. Despite feeling exhausted afterwards, I couldn't wait to do it again, and I still feel that way today.
What are your race day must-haves you rely on?
Helmet! Never go riding without a helmet! On race day it really depends on the type of race, distance, weather, and so on. But I never start without my GU gels, salt tabs and hydration fluids. And of course, the machine that makes it all happen, the bike. I've got a red and blue Norco Threshold for cyclocross, and it's a-mazing! Lil' Red is her name. The Threshold handles beautifully in the technical sections which require tight cornering, and glides over the flat terrain. I love having a double chainring, the extra gears give me a great advantage over other riders on 1× bikes. I also like the fact that having a Shimano 105 drivetrain means that if something breaks or needs replacement, it won't break the bank.
What's your best racing story?
Tour de Bloom 2016. It was a Cat 3 race, and one of my first USAC stage races. It was the biggest field I'd ever been in, with the most teams and lots of very strong riders from Canada and the PNW. The idea coming in was that I would be helping one of my teammates win, but it was likely to be a sprint finish, and with me being a sprinter, I was up for it. We managed to nudge the win out over the Audi team, but by the time stage 4 came around, I was very tired. When we passed through the start/finish line, I was going to pull out of the race since I'd been dropped. My teammate came past me and said "Get on!" I gave it another push and he brought me back to the field even though the original plan was that I'd be helping him. I went on to win that stage as well, thanks to my teammate's sacrifice. I later found out that after he did that, he pulled out of the race himself. It just goes to show, you can have a plan. But when you're out there, you have to be able to change that plan at a moment's notice. Anything can happen in bike racing.
Do you have a favorite event that you've competed in?
I like almost all of the events, road and mountain especially. My favorite cross races are Blind Date and the Grand Prix series, David Douglas and Ninkrossi. David Douglas has those two steep pitches, and Ninkrossi has a good amount of climbing in it. And you don't have to get off the bike too much! As for road racing I have to say that two of my favorites are the Baker City Cycling Classic stage 4 and Swift Summit 100/200. Brian Vegter and Trevor Lee Spangle are two of the coolest guys I have had the honor to come to know through cycling, and these two races in particular are amazing. Great roads, great racing, even greater scenery.
Are there any upcoming races or personal goals that you're excited about?
For next year, I have a couple of goals set for myself. For road, I'll head to Alabama in May to try to qualify for the Masters World Champs. If I do, then I'll be going to Italy in September for Worlds. In the immediate future for this cross season, I'm hoping to get my Cat 1 upgrade this year. I'm especially excited to finish out Blind Date and the Grand Prix series this year, since my first two attempts at cross were stumped. The first year was due to a broken ankle, and my second year was due to a stolen bike. So far Lil' Red and I are off to a great start to this cross season! I hope to improve on my handling and my off the bike skills, which need some work but fortunately the Norco Threshold is a great bike to work with.