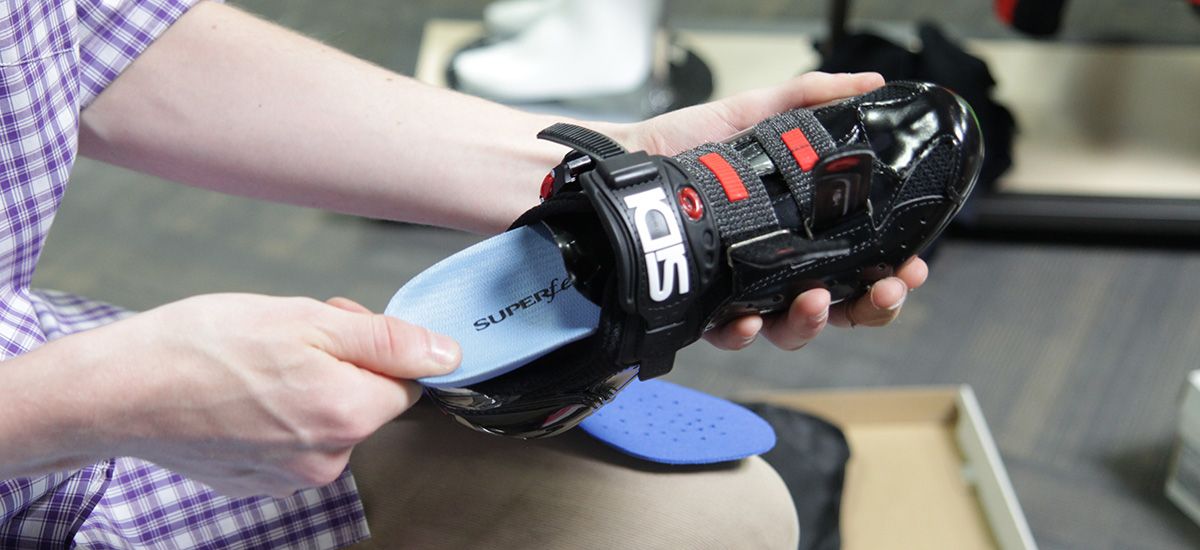 Shop our selection of cycling shoes HERE.
Cycling Shoes
Whether you're a casual commuter, long distance tourer, or dedicated roadie, anyone can benefit from the comfortable fit and efficient power transfer that cycling shoes give you. Here's how to find your sole mate and get you pedaling like a pro.
Cycling shoes have a much stiffer sole than a street shoe, allowing for improved transfer of energy. Combining this with a clipless pedal results in a more complete and efficient pedal stroke, and gives you better control- your foot won't slip off of the pedal while you're standing on a tough climb or descending down a steep hill. Look for a shoe that has a stiff outsole, with materials like carbon fiber. Mountain bike shoes also have tread or grippy soles to give you traction on the trails.
Since your shoes have very stiff soles, they won't break in much over time. Choose a shoe that feels comfortable with some room at the toe, and try them on later in the day when your foot has swollen to its largest size. Bring cycling socks, orthotics, or anything else you need to simulate riding in the shoes. If your heel slips up and down in the shoe, that can lead to rubbing and blisters. Ask sales staff to hold your foot down in the closed, fastened shoe while you try to raise the heel up. If your heel slips up partially or comes out of the shoe, it may not be supporting your foot properly. Try a smaller or narrower size, or experiment with adding an insole. Insoles can also help cushion the arch of your foot for a snug fit and greater comfort.
To shop our favorite cycling shoes, click here.