Camelbak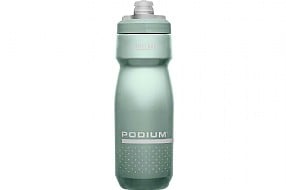 1 of 1 customers found this review helpful.
Great bottle, but harder to clean
I've had two of these with one dedicated to mixes and another for just water. After about 9 months, and cleaning after each ride, the water bottle is still rocking like the first time out. The mix bottle is nearly impossible to fully clean and try as I might, I cannot get the gunk out from the deepest parts of the internal nozzle from the underside. Not a huge deal, but if you use any mix, especially if you ride off road where those mixes will have dirt sticking to the nozzle, etc, they are trickier to keep clean. Outside of that, they're solid and I wouldn't hesitate buying these again, and may just need to re-buy every 6 months or so for my dedicated "mix" bottle. I've not had an issue (as others have stated) with fitting or having these "ejected" from bottle cages as that seems far more an issue with cages, not bottles. These fit standard bottle cages (all that I use on my various bikes) well and aren't difficult to seat, nor do they fly out over rough terrain, of which they've seen a lot.
Thank you for your feedback.