Bikes, Frames, Forks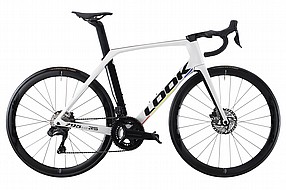 Great Bike
The Look is my dream bike and the color scheme is what I�ve always wanted !!! The Ultegra Di2 shifting is sweet !!! Luckily I haven�t had to use the hydraulic brakes to its full potential. Hopefully I never will.
I went from a 50x34 front and 11-30 back to a 52x36
front and 11-34 back. I was really hesitant with this setup. I ride in NE Ohio and there are a lot of rollers, some with step pitches. I have to say this setup has been a really nice surprise.
I also had my LBS set me up with tubeless and I noticed it right away, big difference !!! The carbon wheels is also a big plus. My only grip is that it came with 25mm tires and not 28.
My longest ride has been 65 miles with a handful of 55+ mile rides. I haven�t had any issues so it�s also an endurance bike.
Overall, this is a fast bike and it wants to go fast. The name �Blade� cuts the wind and it�s really smooth. I would recommend this bike for anyone that wants to ride fast no matter the age.
Side note: I rode a Cannondale SuperSix EVO size 54 for 9 years. Size Medium is a perfect fit !!! The weight is about the same.
Thank you for your feedback.
Cycling Enthusiast
Santa Rosa
fantastic upgrade
I upgraded from the Sid Select. Not only did I lose a half a pound in weight but the performance is really noticeable. First, off my Select was only 110 mm of travel. I have the Epic Evo and those 10 mm really seem to make a difference. Haven't smacked pedals yet. For the performance. I really do notice a differnce, seem to have a lot more control on choppy, rocky surfaces that we have here in Northern California. Also feels more plush with things really do get rowdy.
Thank you for your feedback.