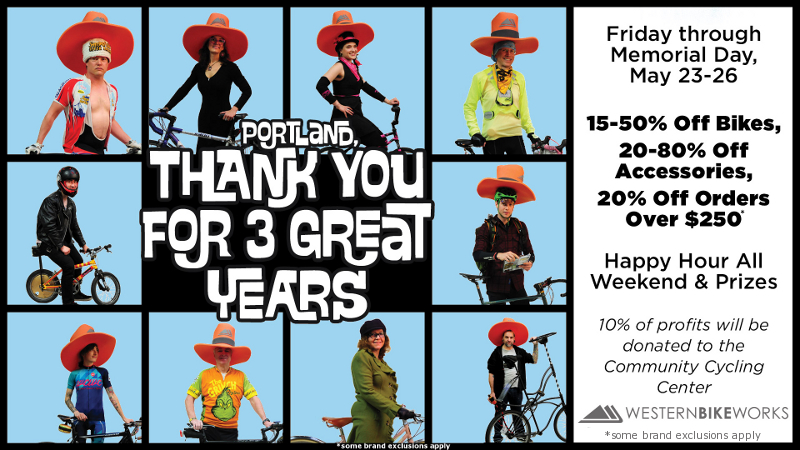 Our Largest In-Store Sale of the Year is Going on Now in our Portland Location!
Dear Portland, thank you for three wonderful years! We've had a great time and we hope you have too. Join us for our big Anniversary Sale and celebration Friday through Memorial Day (May 22 - May 26). We'll have lots of great deals, games and prizes, free burgers and hot links, and drinks at happy hour prices. Come help us celebrate! To pay it forward, we're donating 10% of our profits from the sale to the Community Cycling Center. Thanks again, Portland, we love you.
"
Friday, May 23rd - Monday, May 26th


1015 NW 17th Ave.
Portland, OR 97209


Local calls:
(503) 342-9985


DIRECTIONS
Our Most Popular Articles
About Us
Bike Closeouts
Bike Fenders
Booting a Tire
Bottom Brackets
Building a Fixed Gear/Single Speed
Ceramic Bearings
Chain and Cassette Maintenance
Cycling Trainers
Event Calendar
Go Faster Now!
Going, Going, Gone
Grease, Lube, or Solvent
Our Staff
Pro Bike Fit
Racing Bicycle Wheels
Ride Necessities
Road Bicycle Tires
Road Bike Components
Road Bike Cranksets
Road Bike Seatposts
Service and Repair
Sidi Cycling Shoes
Tire Installation
Tire Size Chart
Tire Sizes
Tire Types
Tube Types
Tubular Tires
Why Buy a Bike