Best Sellers

Add to Cart for Price
Never worry about the weather with this high-performance all-season tire, now with Vectran for extra puncture protection.

Regularly :
$5.99
to
$8.99

$5.27 to $7.91
Standard thickness tube fits 700c or 27 inch tires with Presta or Schrader valves. The pulldown menu indicates the tube size range (i.e. 700x18/23 will fit tires from 700x18c to 700x23c) and the type of valve stem.


$62.99
Total Savings:
$7.00 (10%)
No compromises. Now you can ride Conti's best-selling high-performance tire in colors to match your bar tape.


$13.49
Total Savings:
$1.50 (10%)
A basic 27" tire that's great for all-around road riding. 27 x 1 1/4" (32-630 ISO). Black with Tan sidewall.


$67.99
Total Savings:
$12.00 (15%)
Durable, flat resistant tubular from Continental. 700c x 22mm.

Regularly :
$5.99
to
$7.99

$5.09 to $6.79
Reliable standard weight butyl tube sized for mountain bike tires.


$34.49
Total Savings:
$15.50 (31%)
The K1083 Happy Medium delivers a dual threat cyclocross or gravel tire.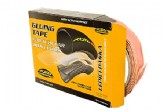 $11.69
Total Savings:
$1.31 (10%)
Self-Adhesive and pressure activated tubular tape. Now easier to install and lighter than previous versions.

*Orders received before 2:00PM Pacific time are shipped the same day (M-F). Orders over $75 are shipped free (USA only, excluding AK and HI). Some exceptions apply. See Shipping for details.