Sidi Cycling Shoes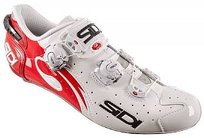 Sidi
has been hand making high-quality cycling shoes in Europe since 1960. The company continues to offer state of the art technology in a reliable, comfortable shoe specifically designed to meet the needs of avid cyclists.
Sidi shoes set the industry benchmark for comfort, style and technological innovation. Utilizing Lorica, nylon composites and carbon fiber, each Sidi model is designed to meet the performance and budget needs of each cyclist.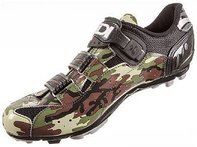 The overriding philosophy in the Sidi design department is that every rider should have a shoe featuring a great fit using high quality materials, not just the top-of-the-line models. The
Sidi Genius 5 Pro Road Shoe
is an ideal shoe for the avid, but not competitive rider.
Sidi Genius 5.5 Carbon Composite Shoe SIZE 38
will be seen on the feet of many amateur racers and in competitive group rides, it's balance of lightweight, stiffness and price may make it the best value in the Sidi line. The
Sidi Genius 6.6 Carbon Road Shoe
and
Sidi Ergo 2 Carbon Road Shoe
are the ones worn by the famous riders in the glossy magazines.
The Sidi Hydro GTX is designed for the most dedicated all-weather cyclists and hardiest commuters.
We're always happy to answer any questions about Sidi shoes or our selection, don't hesitate to contact us at 1-800-651-4050 or sales@westernbikeworks.com.
Our Most Popular Articles
About Us
Bike Fenders
Booting a Tire
Bottom Brackets
Building a Fixed Gear/Single Speed
Ceramic Bearings
Chain and Cassette Maintenance
Cycling Trainers
Event Calendar
Go Faster Now!
Going, Going, Gone
Grease, lube, or solvent
Our Staff
Racing Bicycle Wheels
Ride Necessities
Road Bicycle Tires Page 2
Road Bike Components
Road Bike Crankset
Road Bike Seatpost
Service and Repair
Sidi Cycling Shoes
Tire Installation
Tire Size Chart
Tire Sizes
Tire Tips
Tire Types
Tube Types page 1
Tube Types page 2
Tubular Tires
Why Buy a Bike