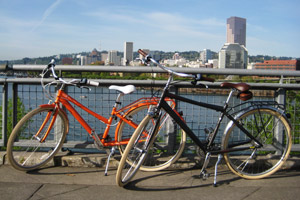 Experience Portland By Bike!
We have cruiser bikes in a variety of sizes. Each bike comes with a helmet, lock, bottle cage, and tool bag.
Cruiser Bike
$25 - Day
$50 - 3 Day Rental
$100 - Weekly Rental

Drop by the store and see one of our sales associates to begin exploring Portland on two wheels!
Bike Demos
Interested in testing a new Cannondale EVO SuperSix on your next group ride? We have this bike and several others available for demo for $80/day. These bikes may not be used in competitive events. Up to two days demo fee can be applied to the purchase of a new bike. Drop by the shop for details.

Saddle Demos
Finding the perfect saddle is often a case of trial and error. With this in mind, we offer test ride saddles for many of our most popular models. Choose from Fizik, Terry (men's and women's), Selle Italia and Selle SMP.
Our $10 demo fee allows you to keep the saddle for up to a week and test as many as you'd like over 30 days. If you end up purchasing a saddle within 60 days, your demo fee is applied to the purchase price. Please contact the store to determine if the saddle you are interested in is available. Saddle demos are only available through the retail store.
Wheel Demo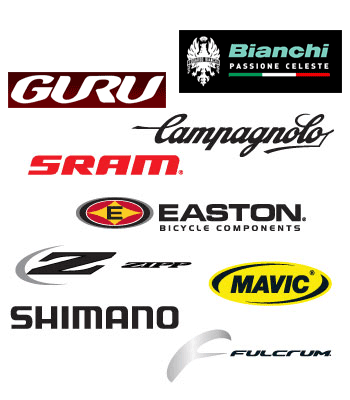 No single part of equipment effects your performance on the bike as much as your wheels. A high quality racing wheelset is the most important upgrade you can make to your bicycle. While the sky is the limit as to what you can spend on a high performance wheelset, Western Bikeworks is dedicated to providing quality wheels at affordable prices.
Clincher or Tubular? Carbon or Aluminum? There's a lot of options out there and our Wheel Demo Program is the best way to decide what's right for you. From American Classic to Zipp, you'll feel confident in buying a wheelset you've already ridden. Are you curious how those Mad Fiber wheels feel on the road? Stop by our store and find out today.
The wheel demo fee of $50 allows you to keep the wheelset for up to three days. You can demo as many different wheelsets as you'd like during the 3 day demo period. If you purchase a wheelset within 60 days, the demo fee will be applied to the purchase price.
The customer is responsible for any damage to the wheelset. Tire wear/damage is covered by the demo fee. Demo wheels cannot be used in competitive events.
Our Most Popular Articles
About Us
Bike Fenders
Booting a Tire
Bottom Brackets
Building a Fixed Gear/Single Speed
Ceramic Bearings
Chain and Cassette Maintenance
Cycling Trainers
Event Calendar
Go Faster Now!
Going, Going, Gone
Grease, Lube, or Solvent
Our Staff
Pro Bike Fit
Racing Bicycle Wheels
Ride Necessities
Road Bicycle Tires
Road Bike Components
Road Bike Cranksets
Road Bike Seatposts
Service and Repair
Sidi Cycling Shoes
Tire Installation
Tire Size Chart
Tire Sizes
Tire Tips
Tire Types
Tube Types
Tubular Tires
Why Buy a Bike