Don't Miss Out:
Now in their 23rd year, the American Lung Association's Reach The Beach rides offer 28, 55, 80 or 100 mile courses to fundraising participants and includes beautiful routes, medical and mechanical support and lots of snack stops, followed by a magnificent beach party feast.
May Shop Ride - Sunday, May 19th, 10am, at Western Bikeworks
Open to all, we'd love to see you and ride with you on this hilly edition of our monthly shop ride. Meet inside the store at 10am. Even-numbered months will feature a fast flat route. Odd-number months will be hillier. Cue sheets provided, helmets required. Come out and play with us!
Western Bikeworks - 2nd Anniversary sale and party
It's our birthday and we're having a party! Saturday, May 25th from 5-7pm, come hang out, listen to live music and enjoy a free beverage.
We're also having a mega sale from Friday 5/24 through Monday 5/27. We'd like to thank you for the past two years by offering 20-70% all products and 15-45% off bikes. Plus, have a free coffee or beer on the house.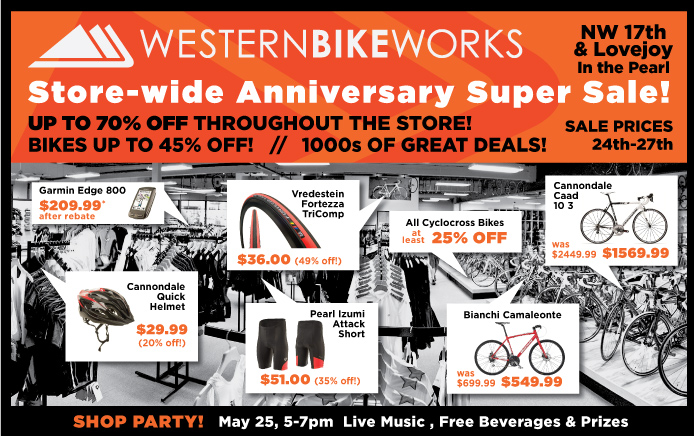 Pedalpalooza, Thursday, June 6th through Saturday, June 29th, Pedalpalooza Calendar
Like Christmas-time for Portland cyclists, Pedalpalooza offers something for everyone. More than 3 weeks of bikey fun with rides ranging from the WNBR (World Naked Bike Ride) to tall bike rides to a kilt ride to the Midnight Mystery ride to the swim across Portland. Just reading the calendar is a delight!
Named to reflect the history of the Champoeg, Canby and Molalla areas, the Pioneer Century features 32, 45, 55, 77 or 100 mile routes. Rich farmland and timber brought the pioneers to this area and this same beauty draws cyclists today.
Strawberry Century - Saturday, June 8th, Santiam Spokes
Four different distances (13 53, 72 and 101 miles), this ride traverses rural and scenic portions of the central Willamette Valley. All rides are fully supported with food and water stops. All riders get a fresh strawberry dessert after their ride. Dessert servings begin at 10:00 AM and end at 5:00PM.
Choose from 30, 62 or 100 mile rides on serene rural roads with top notch support and a gourmet dinner at the Oregon Garden afterwards.
Our Most Popular Articles
About Us
Bike Fenders
Booting a Tire
Bottom Brackets
Building a Fixed Gear/Single Speed
Ceramic Bearings
Chain and Cassette Maintenance
Cycling Trainers
Event Calendar
Go Faster Now!
Going, Going, Gone
Grease, lube, or solvent
Our Staff
Racing Bicycle Wheels
Ride Necessities
Road Bicycle Tires Page 2
Road Bike Components
Road Bike Crankset
Road Bike Seatpost
Service and Repair
Sidi Cycling Shoes
Tire Installation
Tire Size Chart
Tire Sizes
Tire Tips
Tire Types
Tube Types page 1
Tube Types page 2
Tubular Tires
Why Buy a Bike