With plenty of in-store bike parking, the Corsa Cafe is the perfect pre/post ride fueling station. Enjoy an Espresso Macchiato before heading out to the west hills, or stop by for a post-ride Snickerdoodle.
We serve "scruumtrulescent beans micro roasted in an uber German cast iron roaster" from Portland's own Oblique Coffee Roasters. We get our baked goods delivered daily from Modern Love Bakery.
Not feeling like a hot drink right now? The Corsa Cafe also offers fruit smoothies. Ask the barista to surprise you with a unique fruit/juice combination.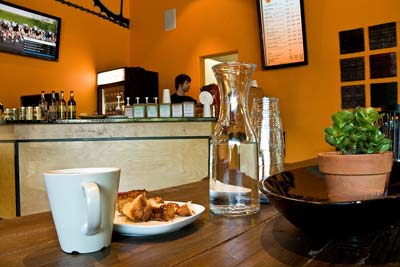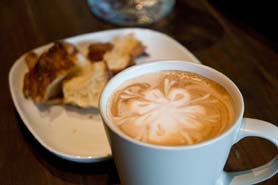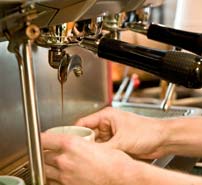 Our Most Popular Articles
About Us
Bike Fenders
Booting a Tire
Bottom Brackets
Building a Fixed Gear/Single Speed
Ceramic Bearings
Chain and Cassette Maintenance
Cycling Trainers
Event Calendar
Go Faster Now!
Going, Going, Gone
Grease, lube, or solvent
Our Staff
Racing Bicycle Wheels
Ride Necessities
Road Bicycle Tires Page 2
Road Bike Components
Road Bike Crankset
Road Bike Seatpost
Service and Repair
Sidi Cycling Shoes
Tire Installation
Tire Size Chart
Tire Sizes
Tire Tips
Tire Types
Tube Types page 1
Tube Types page 2
Tubular Tires
Why Buy a Bike