Building a Fixed Gear/Single Speed
The fixed gear/single speed trend is the most visible trend to take off in the bike world over the past couple of years. Fixed gears are altered track bikes, traditionally used by bike messengers, but now used as stunt bikes or commuters. Single speeds are bikes in their purest form, 1 gear, a freewheel and some brakes. Most any type of frame can be built up as a single speed.
Fixed gear bikes do not allow the rider to coast, at all. The rear gear is "fixed" to the hub. This allows for a variety of tricks as well as unique ride feel. Ask any fixed gear rider, "it feels like your body is one with the bike!" Fixed gear rides are also popular with racers in the off season, putting in miles on a fixed gear is good for muscle memory (but hard on the knees).
Single speeds are a bit more practical than a standard fixed gear. Single speed bikes are generally cheaper than standard road bikes, as they lack spendy drivetrain components, and easier to maintain. Single speeds are great for commuting and recreational riders.
The Frame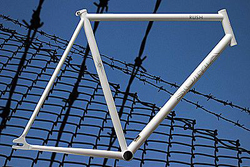 Track frames, like the
Soma Fabrications Rush Track Frame and Fork
, are the preferred frames when building a fixed gear bike. Track frames feature horizontal rear dropouts that allow for a wide range of chain tension adjustment. New road frames rely on the rear derailleur to tension the chain, when a derailleur is not used the rear wheel must be positioned to provide adequate chain tension. Road frames with vertical dropouts can be built up as fixed gear/single speeds, though finding correct chain tension will be a bit more difficult. Older road frames are often equipped with forward facing horizontal dropouts, which also provide a great deal of chain tension adjustment.
Track frames are also designed for very quick handling. Forks usually have ~35mm of rake, bottom brackets are postitioned higher, and wheelbases tend to be relatively short.
Pedals
Single and fixed gear riders generally use platform pedals, such as Soma Fabrications Hellyer Track Pedals, with Soma Fabrications Double Gate Toe Clip Set. Toe clips also require Soma Fabrications Leather Toe Strap Pair, which are a cyclist's version of duct tape. They can be used for anything.
Track racers tend to use standard road pedals, with the tension set as high as it will go.
The Wheels
Fixed gear bikes rely on purpose built wheelsets with a gear "fixed" to the hub. Fixed gear wheelsets usually utilize 120mm wide hubs and are built without dish, the front and rear wheels are both built symmetrically around the hubs. The Mavic Ellipse is designed for the velodrome, but sturdy enough for city streets. Track wheels utilize a track cog on the rear wheel which simply threads on to the hub and is secured by a lockring.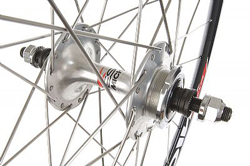 With the rise in the popularity of fixed gear bikes, we see more and more standard road hubs that have been altered to accommodate a fixed gear. This is by no means safe, and can lead to catastrophic failure. Road wheels are not built to handle tension pushing both ways, as a track wheel requires, nor will they provide an proper chain line.
Wheels for a single speed are an easier proposition. Track wheelsets with a freewheel are ideal for single speeds, but regular road wheels with a single rear cog are perfectly adequate. Spacers can be used on the freehub of a road wheelset to provide an adequate chain line.
'Bars/Stem
Components for either fixed gear or single speed bikes are the fun part, because there aren't very many. Standard handlebars and stems can be used with either. Though track specific handlebars, like the Deda Pista Track Handlebar, have deep drops for the real sprinters. They are not designed to accommodate brake levers.
Cranksets
Standard road cranksets are easily converted for use with single and fixed gear bikes. Standard double cranks will have no problem running a single chainring, a 42 tooth is a good size for most terrain. There are also track specific cranksets. Track cranks utilize a 1/8 in. drive and have much bigger gears which are best suited for velodrome use. When shopping for chainrings, remember to consider your crank's BCD(bolt circle diameter) road cranks are 130mm (or 110 if you're using a compact), track cranks have a 144mm BCD.
When shopping for track components, it's important to note that, unlike road parts, track components are built with only strength and stiffness in mind. Velodromes do not go uphill, so weight saving anywhere but the wheelset is generally not an issue in track racing.
Brakes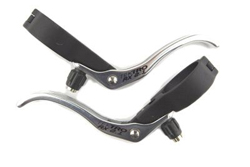 For the purists, fixed gear bikes are best ridden without brakes. Brakeless riding is an enjoyable skill that requires riders learn to see the road, preserve momentum and choose good lines. It is also EXTREMELY DANGEROUS, and not particularly practical for day-to-day riding. While many riders feel perfectly comfortable cruising along sans-brakes, they are woefully unprepared for the car up ahead that unexpectedly blows a stop sign, or that person who opens her door into the bike-lane without looking over her shoulder.
If a fixed gear bike is your chosen means of two-wheeled transport, a front brake is essential. Tektro R730 Long Reach Brake Calipers are an inexpensive brakeset that provides plenty of stopping power and accommodate a wide range of fork/wheel combinations. Running a brake doesn't mean you have to sacrifice the clean lines of your fixie, Tektro Cyclocross Brake Levers provides stopping power and a subtle appearance. Single speeds handle best with brakes on the front and rear.
Whether your riding style includes match sprints or sick wheelies, our staff at WesternBikeworks.com is experienced on city streets and the velodrome. Feel free to contact us at sales@westernbikeworks.com or 1-800-651-4050 with any questions about building up your dream urban ride, single or fixed.
Our Most Popular Articles
About Us
Bike Fenders
Booting a Tire
Bottom Brackets
Building a Fixed Gear/Single Speed
Ceramic Bearings
Chain and Cassette Maintenance
Cycling Trainers
Event Calendar
Go Faster Now!
Going, Going, Gone
Grease, lube, or solvent
Our Staff
Racing Bicycle Wheels
Ride Necessities
Road Bicycle Tires Page 2
Road Bike Components
Road Bike Crankset
Road Bike Seatpost
Service and Repair
Sidi Cycling Shoes
Tire Installation
Tire Size Chart
Tire Sizes
Tire Tips
Tire Types
Tube Types page 1
Tube Types page 2
Tubular Tires
Why Buy a Bike