Bike Fenders
Being located in beautiful Portland, Oregon, the staff here at WesternBikeworks.com have a special relationship with fenders. While Portland is one of the most beautiful cycling cities in America, it also rains hard about eight months out of the year. Not even the nastiest storms keep us off the road. Whether they are for a mountain bike, road bike, or your daily commuter, WesternBikeworks.com has a pair of fenders to keep your wheels rolling through anything.
Road Bike Fenders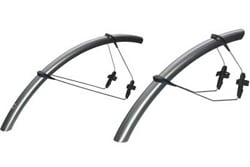 Road bikes can be the most difficult bikes to fit with effective fenders. The Crud Catcher Road Racer is the best option for a full coverage road bike fenders. SKS Race Blade, are another option that offers slightly less coverage, but are easier to install and remove as conditions warrant. Planet Bike SpeedEZ Road Fenders 35mm are another great option for road bike fenders. Attaching in a similar fashion as the SKS Race Blade, Speedez offer a comparable amount of protection with a slightly less sturdy construction and a lower price point.
High performance road bikes are especially sensitive to the dirt accumulated on wet rides. Fenders are an excellent way to minimize the accumulation of grit on your bike, improving the lifespan of your favorite steed.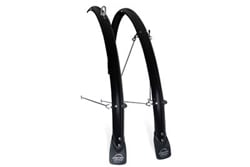 Commuter Bike Fenders
Commuter bikes are often the easiest bikes to fit with full fenders. Generally, commuter bikes are designed with fenders in mind and have ample clearance to allow fenders which provide maximum protection. Planet Bike Cascadia and Serfas Slider are easy to install fenders that provide great protection for the rider and bike. Touring and cyclocross bikes also accommodate full fenders and make excellent commuter bikes.
We've also had good luck equipping our fixed gear road frames with full fenders. The lack of a rear brake usually makes space for a full fender to slide through. It takes some tinkering, but fixed gear bikes can have great fender set-ups.
Clip-on Fenders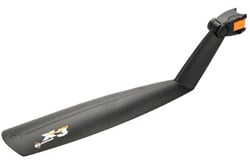 Clip-on fenders are the most convenient way to keep the rooster tail off your back. Conveniently clamping to your seat tube, the SKS X-tra Dry Rear Fender and SKS X-Blade 28" Rear Fender are excellent options for riding in light rains. While they offer minimal protection for your bike, clip-on fenders simply protect the rider from the most prominent source of rain related discomfort: water spray from the rear wheel.
More questions regarding fender selection and compatibility? Get in touch at 1-800-651-4050 or
sales@westernbikeworks.com
. Our entire staff has plenty of experience riding in the rain.
Our Most Popular Articles
About Us
Bike Fenders
Booting a Tire
Bottom Brackets
Building a Fixed Gear/Single Speed
Ceramic Bearings
Chain and Cassette Maintenance
Cycling Trainers
Event Calendar
Go Faster Now!
Going, Going, Gone
Grease, lube, or solvent
Our Staff
Racing Bicycle Wheels
Ride Necessities
Road Bicycle Tires Page 2
Road Bike Components
Road Bike Crankset
Road Bike Seatpost
Service and Repair
Sidi Cycling Shoes
Tire Installation
Tire Size Chart
Tire Sizes
Tire Tips
Tire Types
Tube Types page 1
Tube Types page 2
Tubular Tires
Why Buy a Bike